Europe Trip 2019

The Easter holidays were an action-packed memorable experience for 23 students and 3 staff who traveled to Rome, London, Ypres and Paris. This was the first time that Pinehurst have sent a cultural tour to Europe and although exhausting, was very much enjoyed by everyone.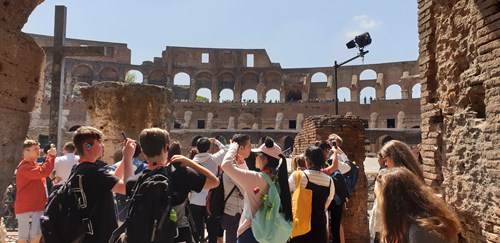 In Rome, everyone had a lot of fun at a pasta cooking class, devoured delicious gelato and navigating through the ancient, very narrow cobbled Roman roads. Definite highlights of the whole trip was seeing the Colosseum and Roman Forum, Pantheon and the Piazza Navona. London saw the hottest Easter in 75 years, so the group were able to spend a lot of time walking the London streets and parks. They got up close and personal with the climate change protesters, numerous police officers and the very energetic buskers on the Tubes. Some of the highlights were touring the Tower of London, Camden Markets, Natural History Museum, the Tate Modern Gallery, the London Eye and Parliament Buildings and nipping up to Stratford-Upon-Avon for a day. The final night's highlight was seeing The Lion King at the famous Lyceum Theatre.
The group were lucky enough to experience ANZAC Day in Ypres. This was extremely moving and quite powerful for both the staff and students as it really hit home just how many lives were lost, how terrible the conditions were and how much of an impact the New Zealand soldiers had in World War One. Everyone was up early to attend a dawn service at Polygon Wood and were honoured to be at the unveiling of a pou maumahara, (an 8 metre Maori carving) in the Passchendaele Memorial Park to commemorate the Maori Battalion and other New Zealand soldiers killed in WW1. Attending The Last Post Ceremony at Menin Gate was an apt way to end such a memorable, unforgettable day.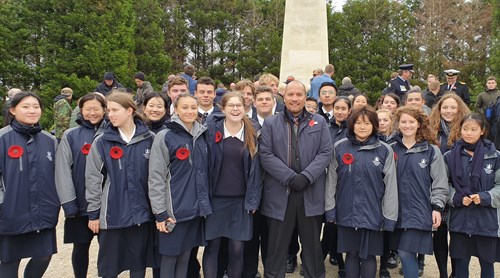 Paris was the last stop for the group, where they fought the crowds to see the Mona Lisa and braved the cold winds on a Seine River Cruise to see the heart-breaking damage to the Notre Dame Cathedral. A hardy few climbed the Eiffel Tower in the rain and hail, several ate escargot and many shopped till they dropped down Avenue des Champs-Élysées before climbing the Arc de Triomphe.
This was the experience of a life-time and the students would like to express their thanks to Mrs Smith, Mr O'Connell and Mrs Cannan for leading the group.